The spindle is driven from below by a DC motor.  The motor is driven by a Kollmorgen HPA series drive (I think).  I am not familiar with that exact series, but it looks a lot like the TPA/SPA series of drives.  It may be slightly newer than the TPA/SPA's.
Part Number for drive:
HPA03-158100-611-5306B35 – we figure this is a Hardinge version of a TPA, not sure.  Looks like a TPA.
Serial Number: 4L-366
Best I can tell, the drive is 158V line-neutral, 100A output.  Makes me think that the motor is really bigger than 5HP.  The motor is also fan cooled through the windings.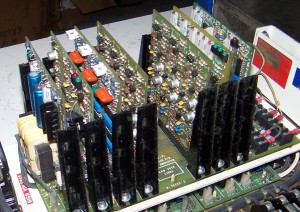 There are a few, maybe 3, V belts driving the spindle.  I don't see why we can't salvage at least the motor.  I think it is 5HP, which should be more than enough to do anything this lathe will do.
Picture of a drive from Ebay.  I can't see it clearly, but it looks like the serial number is the same.  I would bet that this drive came out of a Hardinge.  They want $1250 for it.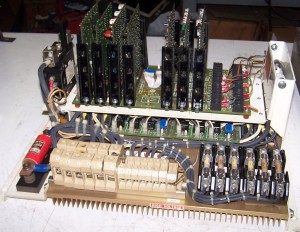 The motor seems to run fine when connected to a car battery.  It is probably usable.