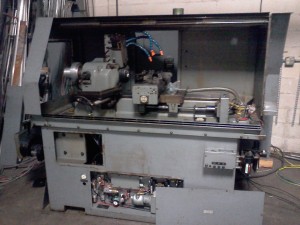 Some friends of ours purchased a Hardinge CNC lathe.  The lathe looked like it may be in OK shape, but the AB 7370 control that Hardinge shipped the machine with did not appear to be serviceable.
I was checking out the LinuxCNC.org site, which I occasionally do, and I was checking out some of the hardware links.  I occasionally do that too.  I went to a site called vitalsystem.com.  They have some impressive looking motion control hardware that can be used with Mach3 CNC software.  They sell some rather inexpensive servo drive and motors that looked like they would do the job.  To make a long story short, I ended up placing an order for a bunch of stuff to retrofit the lathe with.  I figure if they don't want to use it on the lathe, I will put the stuff on a knee mill and play around with that.
I bought 2 servo motors and drives, a motion controller, a MPG box, an optically isolated I/O breakout module, and 3 25 pin D shell breakout boards with cables.  This constitutes most of the hardware required to retrofit this particular lathe.  We will have to do some adapting here and there, and figure out how to run the spindle motor, but this gives us a good start.